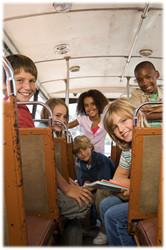 The SERVE Center at UNC Greensboro provides technical assistance and support for helping vulnerable children and youth succeed in school. With the passage of ESSA, SERVE has included in its focus children and youth in foster care.
In the fall of 2018, the SERVE Center was pleased to host a Foster Education Summit. This event gathered stakeholders from across the country to engage in  a common purpose: ensuring the educational stability of children and youth in foster care. Participants shared multiple resources (linked below) and requested continued support from the SERVE Center. Since that time, Center staff have been involved in both the National Association for the Education of Homeless Children and Youth (NAEHCY) Conference and the U.S. Department of Education's Combined Federal Programs Meeting in December of 2018. Also in December, SERVE hosted a webchat for State Points-of-Contact. 
Our 2nd Annual Foster Care Summit was held in August 2019. We look forward to providing additional opportunities for collaboration in the near future and will provide updates to this page on a regular basis. In the meantime, please feel free to access the resources below.
---
Download State Points of Contact list (updated June 2022).
---
Click on each section below to find and download corresponding documents.